So it's pretty clear I have a few loves food-wise and I am sure you know that mint/peppermint is one of my top ten. You give me mint, I am a happy girl!
Going along with my Christmas theme of Let's Keep Our Sanity Intact This Year, these little cheesecake bites are a monumental testament to my urge to make quick, easy everything this holiday season. All they take are five ingredients and literally about 10 minutes to make!
They are fast, easy, delicious and a fabulous addition to your holiday dessert table.  I have fooled around with no less than FOUR cheesecake bite recipes in total, so keep your eyes peeled! I had one fun day creating all these different types of cheesecake bites for the site, you can just imagine what my kitchen looked like!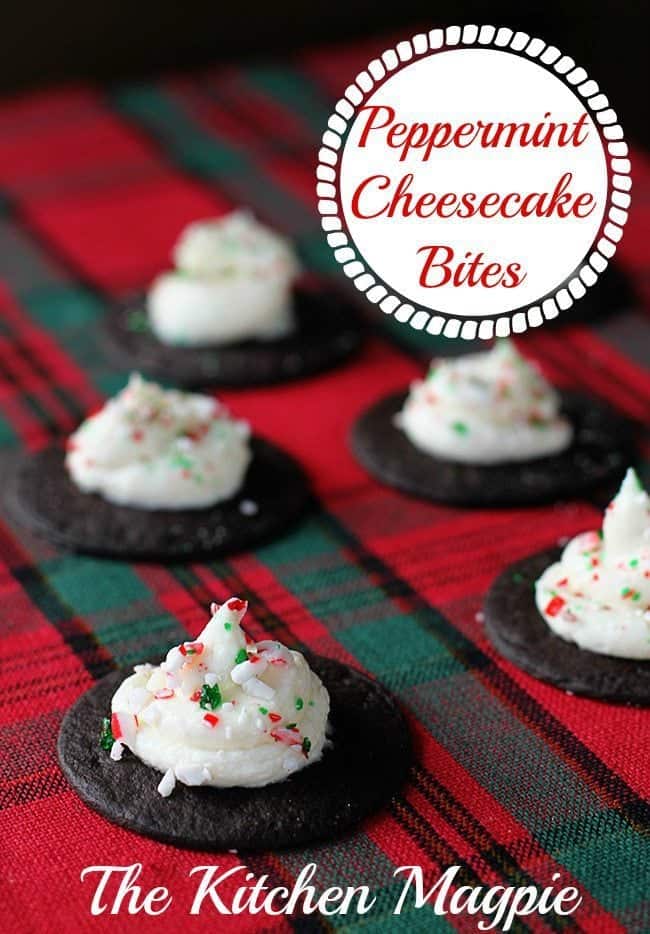 The other thing I love about these is that no one will have seen them before, they are a brand new creation I just came up with. They are so simple and easy and look so beautiful!  Not to mention, we are talking chocolate and peppermint here folks, oh and the cheesecake flavor as well.
Serious yum.
Are you all keeping sane during these last few weeks before Christmas? I'm trying, really, I am! I think I'm holding it together. Possibly. I bet if you asked Mike the answer might be different….we are packing for our trip, arranging all sorts of last-minute things that need to be done, but it's all coming together so fabulously!
I hope. *crosses fingers*. I am always so paranoid about forgetting really important things, like, oh passports or the like. It just brings out the inner worrier in me!
Happy Baking everyone!
Love,
Karlynn
** Remember to join ZIPLIST to create your own online recipe box and then click SAVE on my recipe below to add it! I use my online recipe box ALL the time! **
Peppermint Cheescake Bites
Quick and delicious five ingredient Peppermint Cheesecake bites.
Course: Dessert
Cuisine: cookies
Servings: 24
Calories: 187 kcal
Ingredients
8 oz cream cheese softened
1/2 cup powdered sugar
1 tsp mint flavoring
1/2 cup crushed candy cane
24 chocolate cookies of your choice: I used Mr. Christie's Chocolate Flat Cookies
Instructions
Beat together the cream cheese, powdered sugar and mint flavoring until light and fluffy.

Fill an icing bag with the cream cheese mixture, using a tip of your choice or a bag with the corner cut off.

Pipe the cream cheese onto the cookie.

Refrigerate until ready to use, then sprinkle the crushed candy cane on top.

Serve and enjoy! Makes approximately 24, depends on how much cream cheese you use on top of each one.
Nutrition Facts
Peppermint Cheescake Bites
Amount Per Serving (24 g)
Calories 187 Calories from Fat 72
% Daily Value*
Total Fat 8g 12%
Saturated Fat 3g 15%
Polyunsaturated Fat 1g
Monounsaturated Fat 2g
Cholesterol 10mg 3%
Sodium 90mg 4%
Potassium 154mg 4%
Total Carbohydrates 27g 9%
Dietary Fiber 2g 8%
Sugars 16g
Protein 2g 4%
Vitamin A 2.5%
Calcium 0.9%
Iron 6.4%
* Percent Daily Values are based on a 2000 calorie diet.
0