If there is one thing I cook year round, it's pot roasts. True, I might not make a Dutch Oven pot roast during the summer months (but then again, I am thinking of getting central air conditioning installed because I'm really tired of working in a boiling hot kitchen, which will happen again this summer) but I certainly make them in my crockpot.
The thing is….as much as I love my crockpot, there is nothing like a Dutch Oven pot roast.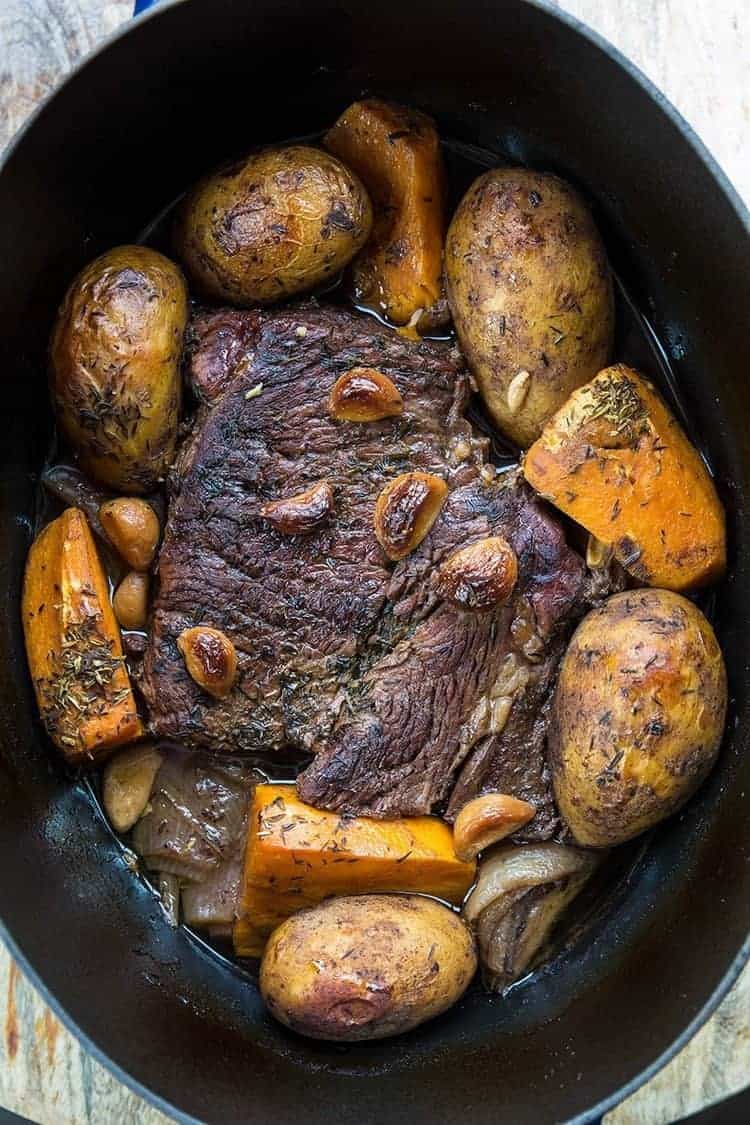 Nothing.
That cast iron cooks up a blade or a chuck roast in around 5 hours and if you use whole vegetables, you have this crispy, yet tender roast and these amazing vegetables that have been simmering in the beef broth and wine all of those hours.
It's magic.
Yes, I love my slow cooker but if I have the time – and it's ok to heat up my kitchen with an oven that will be on for hours – a dutch oven pot roast is the only way to go.
You just don't get vegetables that are as nice when you use a crockpot.  The skin can get crispy in places and it seems to infuse them with the thyme a lot better.
I'm not trying to beat up on my crockpot roasts, don't get me wrong. That's how I usually make my roasts.
However a Dutch Oven pot roast just makes the best pot roast ever!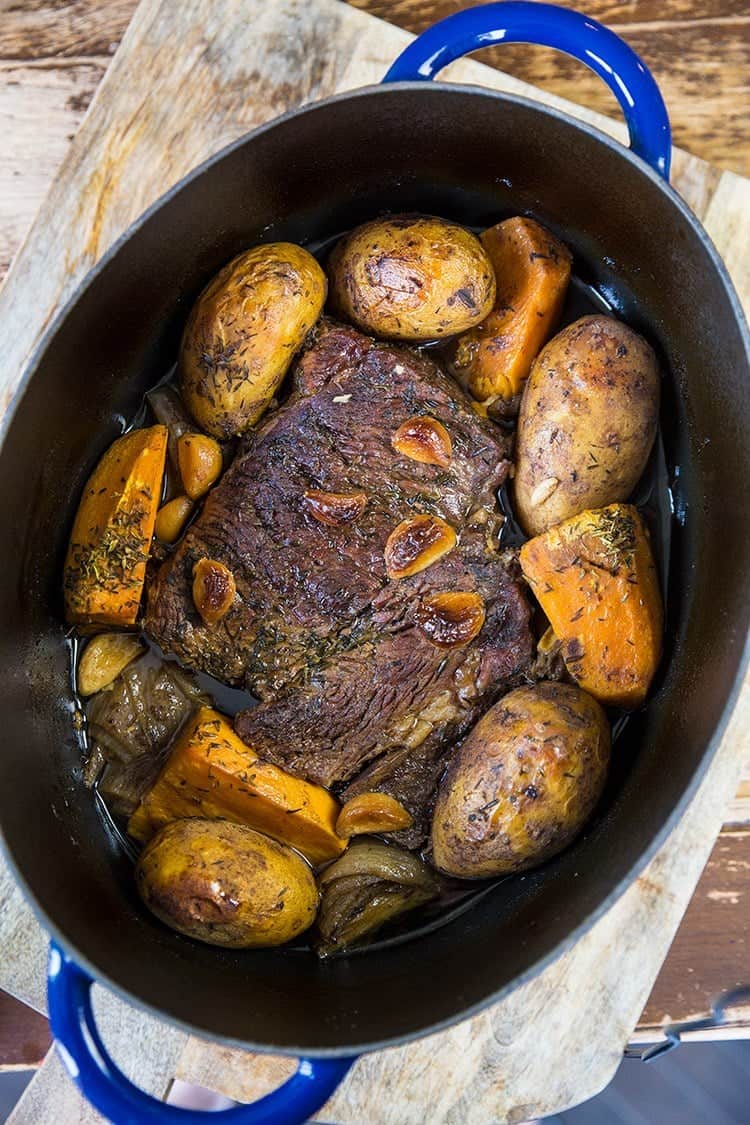 So what is YOUR favourite way to make pot roast? Crockpot? Dutch Oven?
Happy cooking babes!
Love,
Karlynn

Dutch Oven Pot Roast
How to make a Dutch Oven Pot Roast. I must admit, this is the best way to make a pot roast! I love my crockpot but a dutch oven really makes the best pot roasts!
Course: dinner recipes
Cuisine: American
Keyword: dutch oven pot roast
Servings: 6 servings
Calories: 258 kcal
Ingredients
1 tbsp olive oil
4 to 5 lb  blade or chuck beef roast
6  russet large potatoes  washed and kept whole
1 large sweet potato peeled and sliced into very large chunks
2 red or white onions quartered
10 cloves garlic  whole
1/2 cup red wine
2 cups beef stock
1 tbsp thyme I used freeze dried
Salt and  black pepper
Instructions
Preheat your oven to 325 F.

Sprinkle the salt and pepper over the roast.

Add the olive oil to a Dutch oven and start heating to medium-high heat.

Brown the beef roast on all sides, approximately 1 to 2 minutes per side.

Place your vegetables around the roast and the garlic on top.

Combine the beef broth and red wine together. Pour over the top of the roast.

Sprinkle the thyme over the top.

Cover and place in the oven.

Roast in the oven for 4-5 hours or until the meat pulls apart when you take two forks to it. The secret is low heat and slow!
Recipe Video
Recipe Notes
Blade and chuck roasts are your quintessential "pot roasts" because they cook up nicely over many hours. If you use another type of roast such a sirloin tip or rounds, they will take less time to cook and will not turn out as nicely.
Make sure your vegetables are large ( whole potatoes) and they will be nice and soft by the time the roast is done. IF you want smaller chunks, add them to the roast for the last two hours of cooking or they will be mush.
Nutrition Facts
Dutch Oven Pot Roast
Amount Per Serving (1 /6 of the roast)
Calories 258 Calories from Fat 18
% Daily Value*
Total Fat 2g 3%
Sodium 184mg 8%
Potassium 1215mg 35%
Total Carbohydrates 49g 16%
Dietary Fiber 4g 16%
Sugars 4g
Protein 7g 14%
Vitamin A 62.6%
Vitamin C 22.8%
Calcium 6.3%
Iron 14.7%
* Percent Daily Values are based on a 2000 calorie diet.
240