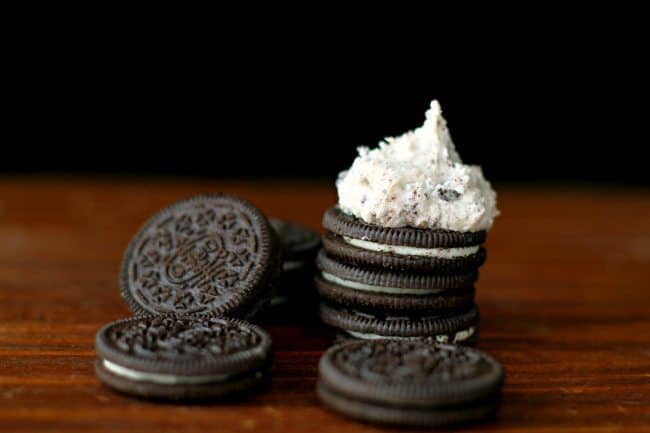 Happy Tuesday!
By now everyone in Alberta has begrudgingly returned to work after our beautiful long weekend. Here in Edmonton we had the nicest May long weekend weather-wise that I can ever remember.
No snow. No sleet. I got a slight sunburn.
So. Very. Weird.
May Long in Alberta is not supposed to be nice weather. We usually get hit with a blanket of heavy wet snowing while camping, or sleet or pouring rain. As hardy Canadians we head out to the lake/campsite/bush anyway, because really, snow never stops us from anything, now does it?
I however, stayed at home. Baked. Went out Saturday night with my friend Kandice for her birthday. Did yard work and planted my garden in the SUN.
It was glorious.
If you noticed, there were two words in the last few sentences. Birthday and baked. Oh, you just know something happened in my kitchen over the weekend!
OREO concoctions, that's what happened.
Let's start with my Cookies n'c Cream Oreo Buttercream Icing. Why haven't I thought of this before??!! Oreo's are the perfect pairing with my Best Buttercream Icing Ever recipe!
If you thought my original icing was good enough to eat off the spoon, then this Oreo Cookies n' Cream Buttercream Icing will blow your mind even more.
You can add as many cookies as you want, the filling in them makes the icing even creamier! I used a cup but play around with the amount of cookies and make it to your liking,
Hmm. Oreo Cookies n' Cream Buttercream Icing must mean that there is a cake somewhere to go along with it…..
Stay tuned for the cake recipe tomorrow!
Love you more than Oreo's,
Karlynn
Print
Oreo Cookies n' Cream Buttercream Icing
---
Author:

Karlynn Johnston - The Kitchen Magpie

Prep Time:

5 min

Total Time:

5 min

Category:

icing
Description
Amazing Oreo Cookies n' Cream Buttercream Icing!
---
Ingredients
1 cup of salted butter
3 teaspoons of vanilla
4 cups of icing sugar
4-5 tablespoons of coffee cream 18% and up
1 cup of broken Oreo Cookies or more if you like!
---
Instructions
Whip the butter with a paddle beater attached to an electric mixer on medium speed until creamy.

Add in the vanilla and beat in.

Add in the icing sugar, cup by cup, beating thoroughly after each addition.

Add in the cream until desired consistency is reached.

Mix in the Oreo cookies completely. You can beat it in until the cookies are small bits OR you can mix it in slowly, leaving cookies in large chunks. Add more cookies if desired!