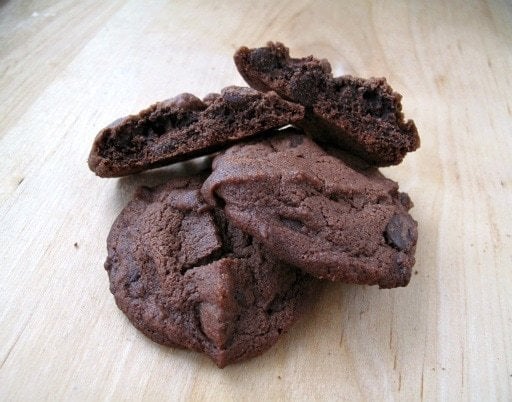 Recipe type:
dessert,cookies
1 cup of butter
¾ white sugar
¾ brown sugar
2 eggs
2 tsp vanilla
2 cups of flour
⅔ of cocoa
1 tsp baking soda
¼ tsp of salt
one package of dark chocolate chips
Kick the tires and light the fires to 350 degrees.
Whisk together the dry ingredients, making sure that the cocoa isn't lumpy and is well mixed in.
In your mixing bowl, cream together the butter and sugars until it's wonderfully light colored and fluffy. Then add in your eggs, one at at time, beating them in completely and toss in the vanilla as well.
When the vanilla has been mixed in, slowly add in the dry mixture little by little, until it has all been added and mixed in thoroughly.
Using the mixer on the lowest speed setting, add in the whole bag of chocolate chips and mix until they are just evenly through the wonderful chocolate dough goodness in the bowl.
Drop by rounded teaspoonful onto ungreased or parchment lined cookie sheets.
Bake in the 350 degree oven that you have preheated, of course, for 9-10 minutes. Remember that the key to wonderful cookies is just underbaking them by a minute or so and this is especially important with these cookies as the cocoa can dry things out.
After a minute of so of cooling on the sheets, remove the cookies onto a rack to cool.